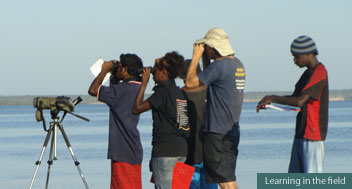 Wildlife Unlimited has developed an extensive body of experience in Environmental Education. For over ten years we have been delivering high quality programs, resulting in high quality outcomes.
We have programs that are designed to fulfil the needs of school groups, community organisations and the general public.
Our programs are usually delivered out in the field, so we can provide a 'hands on' approach. However we are flexible enough to come into the classroom or meeting and present a general information session about ecology, Australian native plants and animals, and our projects.
Currently we have the following interactive programs:
Going Batty
Frogs Alive
What Bird Is That?
Tracks and Traces
Introduction to Biodiversity
Mammals
Rockpool Ramble
Biodiversity Survey
Reptiles
Coastal Marine Biology