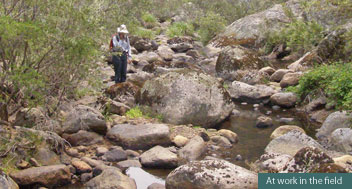 Have you ever seen a Green & Golden Bell Frog or a Growling Grass Frog? Click here to fill out our sighting survey!

Established in 1996, Wildlife Unlimited is a highly experienced professional environmental consultancy based in Gippsland, working internationally and throughout Australia.
Wildlife Unlimited provides environmental research, planning and education services to a diverse range of organisations. These include government agencies such as Department of Sustainability & Environment and Parks Victoria; local Councils; Catchment Management Authorities; Landcare; Environmental agencies; schools and community organisations.
Over more than fifteen years we have undertaken projects throughout Australia across the full range of bioregions. We have completed programs for small community organisations, large land managers, privately run environmental groups and nature parks.
Internationally, Wildlife Unlimited has conducted extensive work including:
travelling to Vanuatu to survey for the Santo Mountain Starling;
to New Zealand to repatriate Brush-tailed Rock-wallabies;
to Uganda to participate in the habituation of Savannah Chimpanzee;
and to Cambodia to capture and sample wild birds for the Avian Flu H5N1.
Wildlife Unlimited has an experienced team of naturalists, ecologists, botanists and environmental educators, with a wide range of specialist skills. In order to maximise the efficiency and quality of our service, Wildlife Unlimited often collaborates with other highly experienced specialist environmental consultancies.
Contact us to find out more.