Wildlife Unlimited has responded to a community need in the development of wildlife translocation services. Our projects have assisted caravan parks, fauna reserves and others in translocating wildlife from unsafe urban places. We have translocated kangaroos, birds and a variety of other species.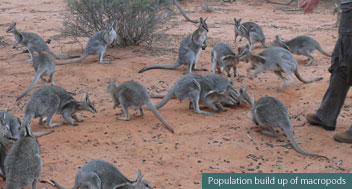 We have adopted a highly ethical methodology that ensures a minimum of stress to the animals. The animals are never chased or harassed. The welfare of the animals is a prime concern for all staff, at all times.
These programs are undertaken in a sensitive and low key manner, to ensure that it is completed with the minimum of fuss. Detailed translocation plans are developed prior to the operation commencing in order to increase efficiency and effectiveness. We have specialised equipment that need highly trained and licensed personnel to operate as well as the experience of an assortment of strategies and specialised knowledge to call upon.
We are proficient and experienced at engaging the public in relation to such operations and can devise a public consultation strategy if required.